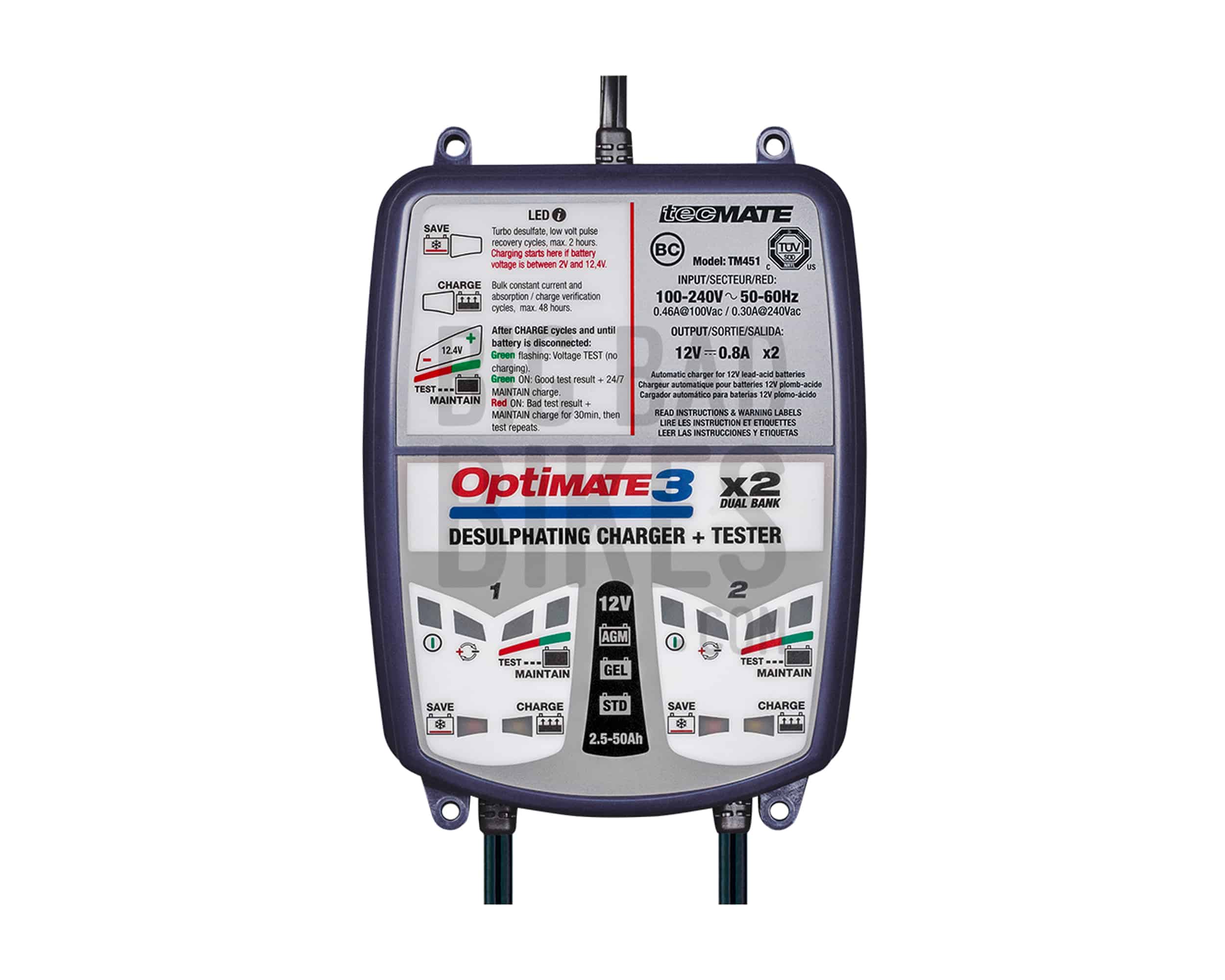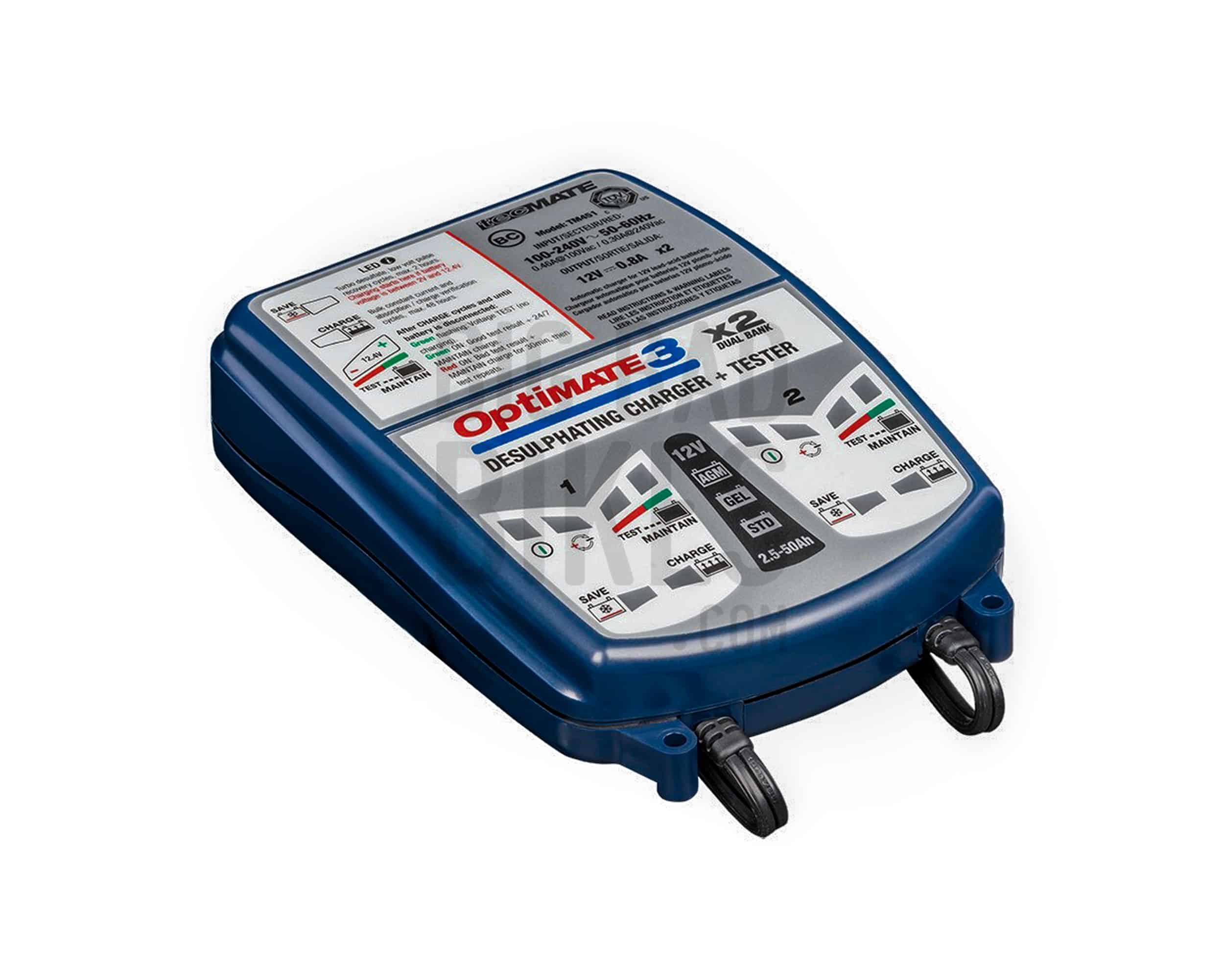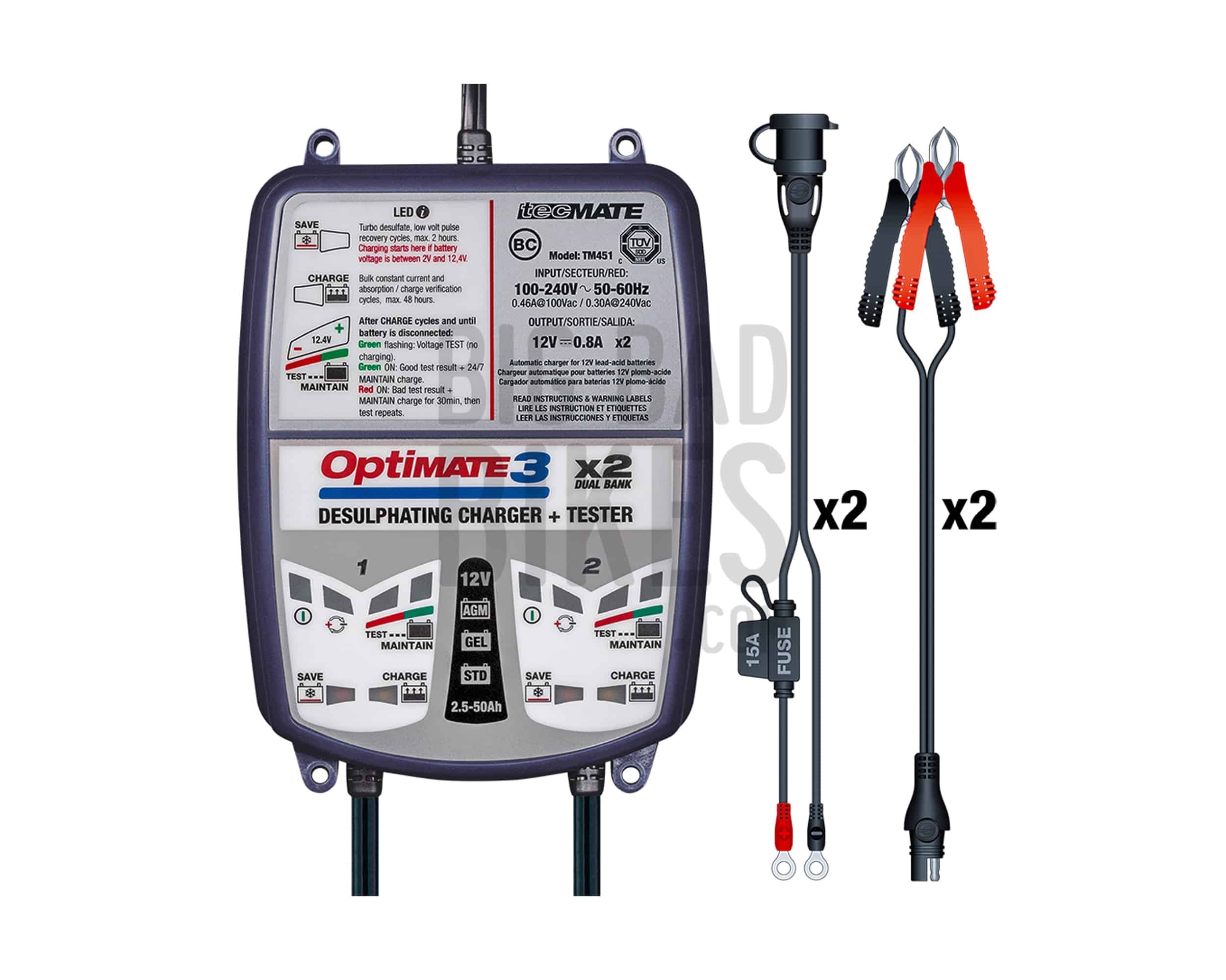 Optimate 3 Battery Charger – 2 Bank
Now charge and maintain up to 2 batteries at the same time! Connect & forget! No more problems!
Out of stock
Notify me when stock is available
Excl. Shipping & Other Charges
[?]
---
---
Product Description
Optimate 3 Dual bank, the fully sealed 2-bank battery saving charger & maintainer for 12V AGM, GEL or STD batteries.
– OptiMate 3 chargers are trusted by global motorcycle OEMs, including Honda, Triumph, Suzuki, Yamaha, Kawasaki and more.
– Independently charge, test and maintain 2 x 12V lead-acid (STD, AGM, GEL) batteries – Batteries are always ready to perform.
– Saves 'dead flat' sulphated batteries from as low as 2V.
– Tests automatically – indicates if there is a battery problem
– OptiMate's 24-7 smart maintenance guarantees more battery power, longer battery life!
IDEAL FOR: 2x AGM, GEL & STD 12V batteries from 3 – 40Ah
CHARGING AMPS: 0.8A (constant current, per bank)
CHARGING VOLTS: nominal: 12V range: 2V – 14.4V
OPERATION: Fully automatic
STEPS: 7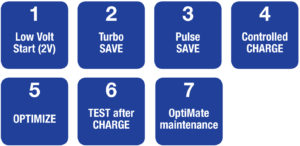 FEATURES: The all-in-one tool for 2x 12V battery care. Diagnoses, recovers, charges, tests and optimally maintains, automatically.
USE: Indoor / Outdoor (lowest temperature: -4°F / -20°C).
INPUT: Global (100-240V 50-60Hz), high efficiency (CEC listed).
STYLE: Weatherproof case with wall mounts, with 6ft / 180cm AC supply lead and 2 x 6ft / 180cm charge lead ending in SAE connector.
SAVE : Low Volt Start of 2V 2 step desulphation recovery.
SAFE: No risk of overcharging. Totally safe for vehicle electronics. Sparks suppressed. Safe for long-term battery maintenance. Automatic shut-down if short-circuited or battery disconnected.
INCLUDED: 2x weatherproof battery lead & 2x battery clip set.
WARRANTY: 3-year limited replacement warranty.
Additional Information
Source: Optimate
---
Product Specifications
12v 0.8A output
7-step charge cycle
Designed for for 12V AGM, GEL or STD batteries
What's in the box?
OptiMate 3 x 2 BANK x 1
OptiMate CABLE O-01 (Battery Leads) x 2
OptiMate CABLE O-04 (Battery Clips) x 2
Compatibility Warning
Designed for for 12V AGM, GEL or STD batteries
---