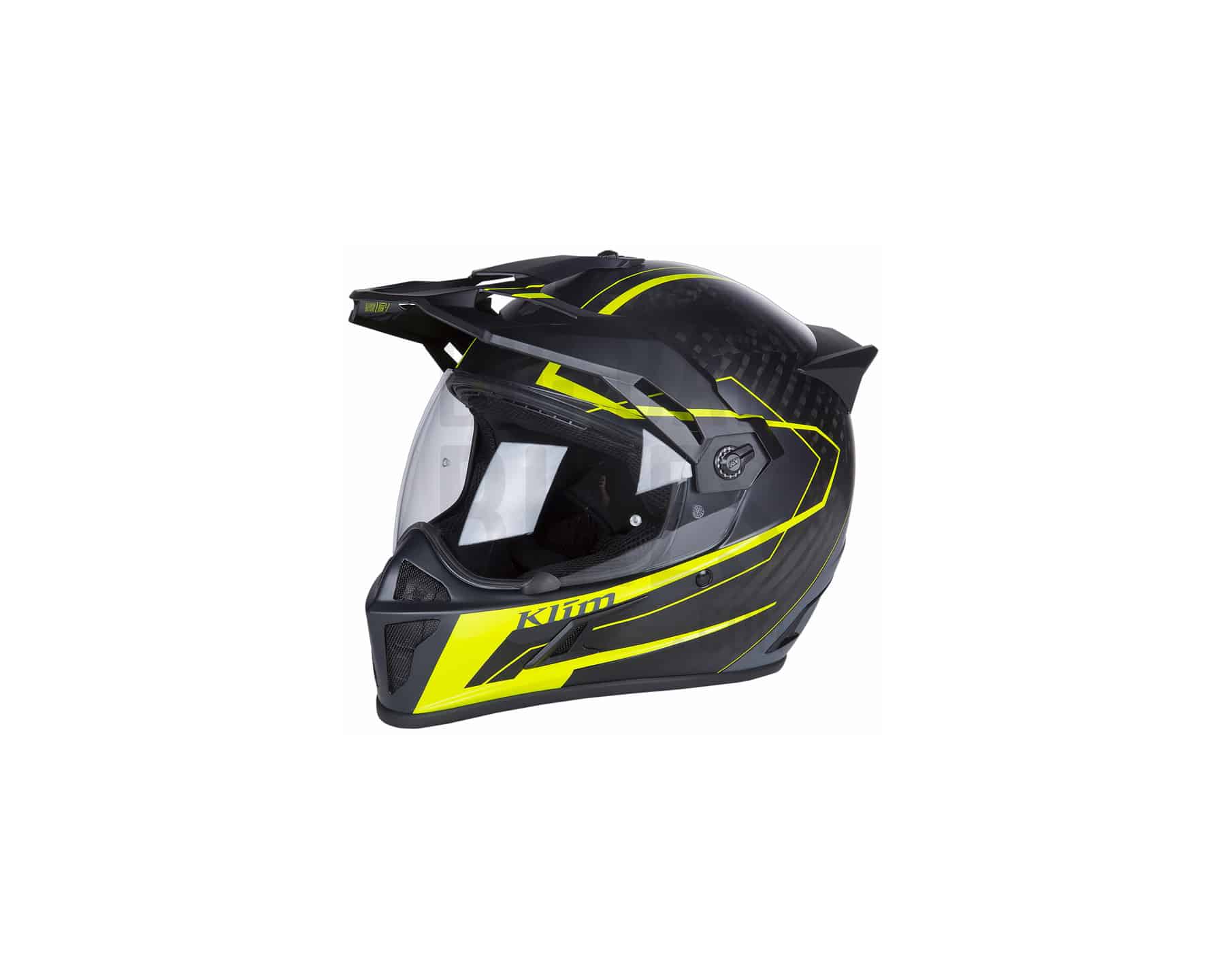 Klim Krios Karbon Adventure Helmet
Introducing THE standard for Adventure Helmets - Klim's Krios Karbon Adventure Helmet
Klim
Product Description
Klim's Krios is a new beginning for ADV helmets—revitalising standards in strength, performance and functionality while leaving traditional compromises behind. This is the lightest adventure helmet ever created, while still being supremely comfortable and functional too!
The Krios is made from hand-laid wide carbon fibre. In addition to giving this helmet a very unique look, it also allows Klim to use just the right amounts of carbon-fibre and resin while not compromising on shell strength at all. The Krios is THE lightest ADV helmet out there, all this while still exceeding ECE & DOT safety standards.
The Krios is modular in design, and can be used in 4 different configurations –
Street – with the peak removed
Adventure – with the peak and visor
Off-road – with the visor removed and used along with Goggles
Off-road/Adventure – with visor & goggles together
The Krios has a quick release shield and visor system requiring only a simple, 90 degree quarter-turn to lock/unlock. No tools required!
The Krios also has a super wide field of vision, giving you better peripheral vision when on the bike. Pair that with optically correct visors, and the Krios gives you great vision all-round.
As with all Klim gear, comfort is always of great importance and in addition to the incredibly low weight, Klim has spent a lot of time and effort making sure that the liners are the most plush you'll ever see in an ADV helmet. Made from Klimatek cooling material, the liners wick sweat away from you effectively. They also have anti-microbial properties, making sure that your helmet stays so fresh and so clean!
Klim knew that a wide range of riders would be using the Krios, so its been designed to handle a wide range of conditions and speeds as well. The aerodynamics of the peak and the helmet have been designed to give stability at all speeds, while still giving great protection from sunlight. Upgrade your Krios to the Transitions visor, and you'll never have to worry about changing conditions and light ever again!
Ventilation has been thought through too, with a large chin bar vent, and a closable top vent.
The Krios comes with 2 Pin-Lock ready premium polycarbonate anti-scratch visors, as well as one Pin-Lock insert.
HEAD CIRCUMFERENCE (cm)
54-55
56-57
58-59
60-61
62-63
64-65
HELMET SIZE
S
M
L
XL
2XL
3XL
COMFORT LINER
S, M
L, XL, 2XL, 3XL
CHEEK PADS
S-25cm, M-20cm
L-25cm, XL-20cm, 2XL-15cm, 3XL-10cm
Highlights
Lightest ADV helmet on the market
Modular – switch easily between 4 configurations
Comes with 2 premium polycarbonate visors
Wide viewing angle for better peripheral vision
Can accommodate most goggles
Additional Information / Product Reviews
Product Specifications 
Material – Hand-laid Carbon Fibre
Weight – SM-MD – 1.29kg, LG-3X – 1.46kg
What's in the box?
Krios Helmet
Soft draw-string cover
2 Pin-Lock Ready Visors – Clear + Dark Smoke
1 Pin-Lock Insert
Trim Panels (for when peak is removed)
Helmet Spares