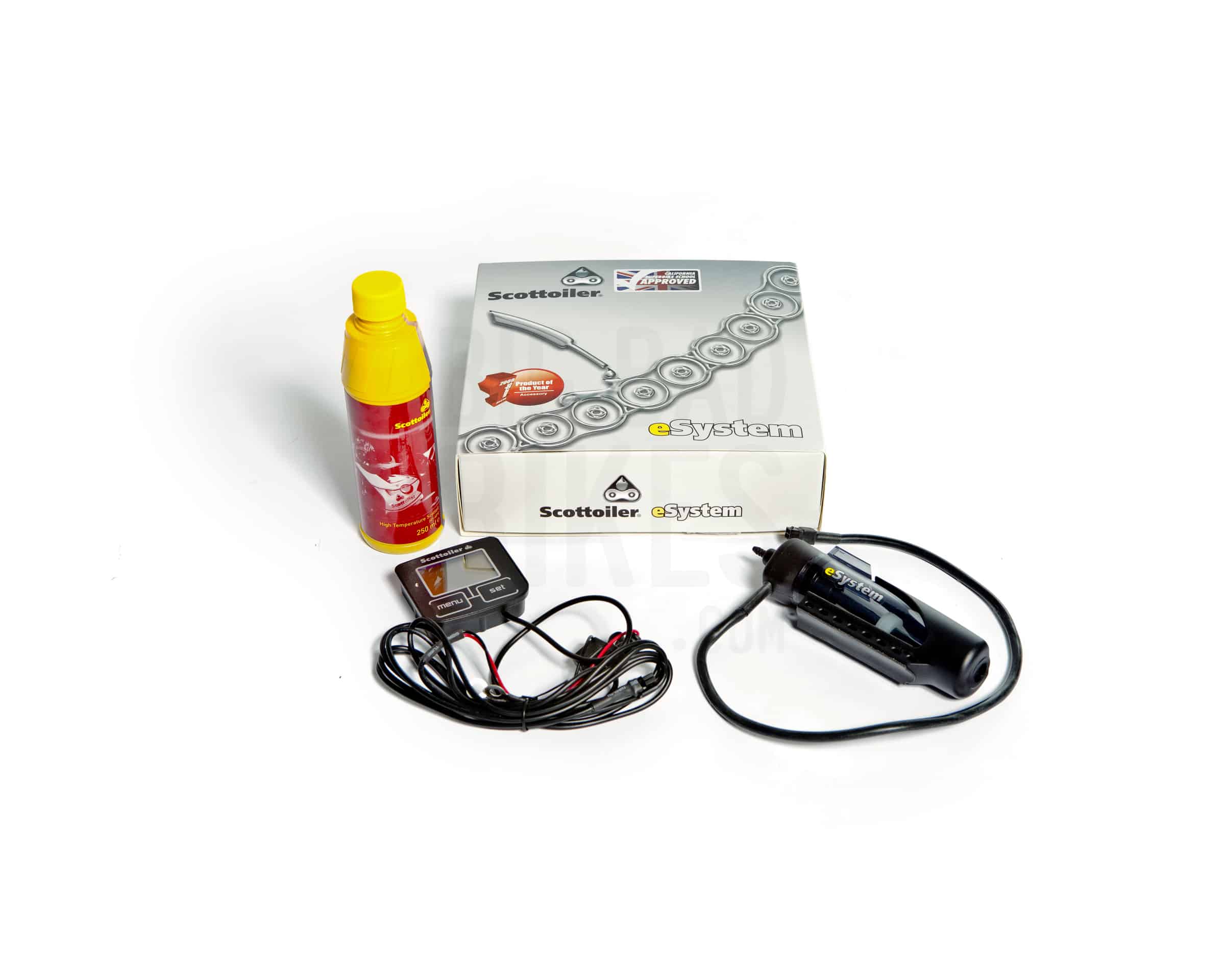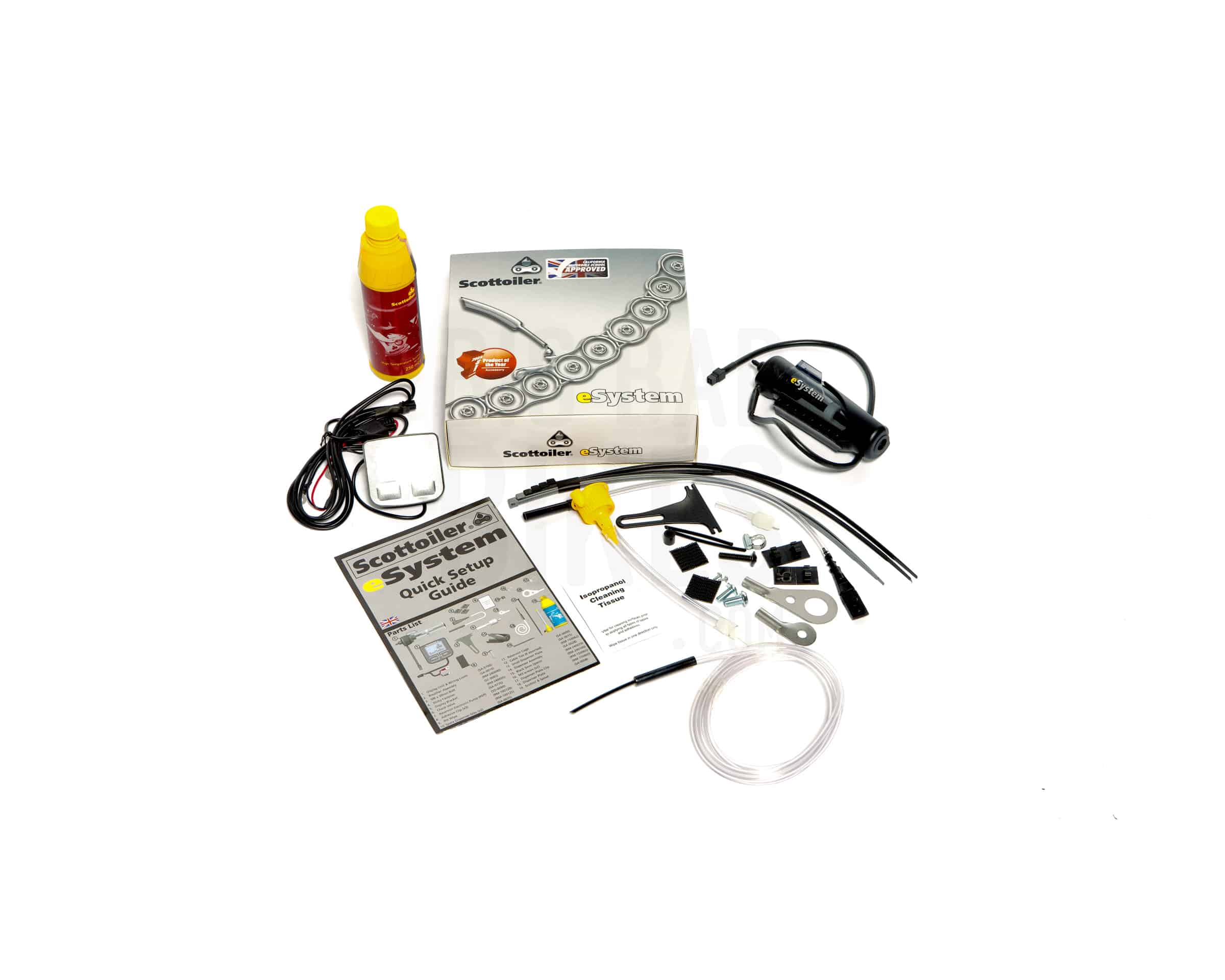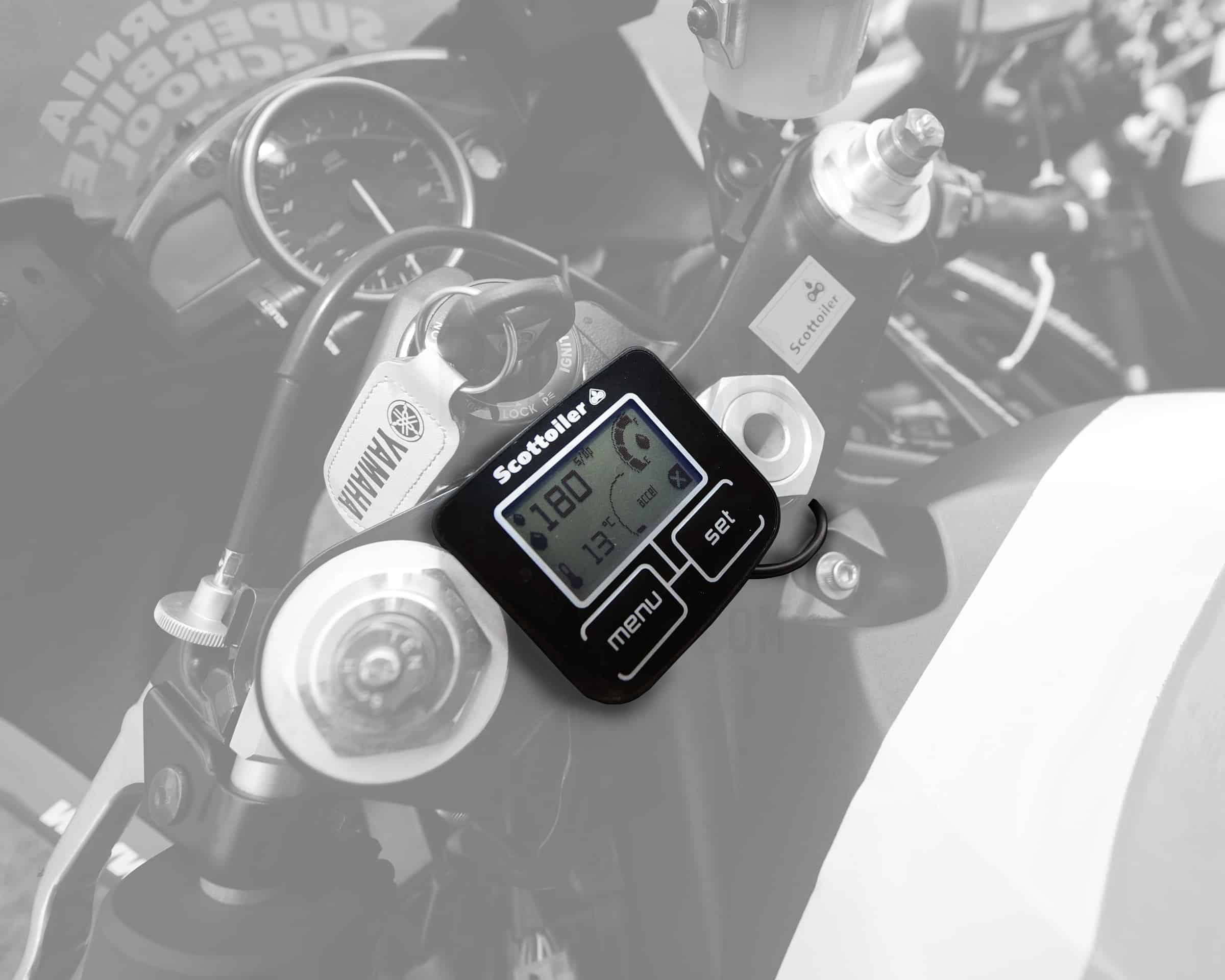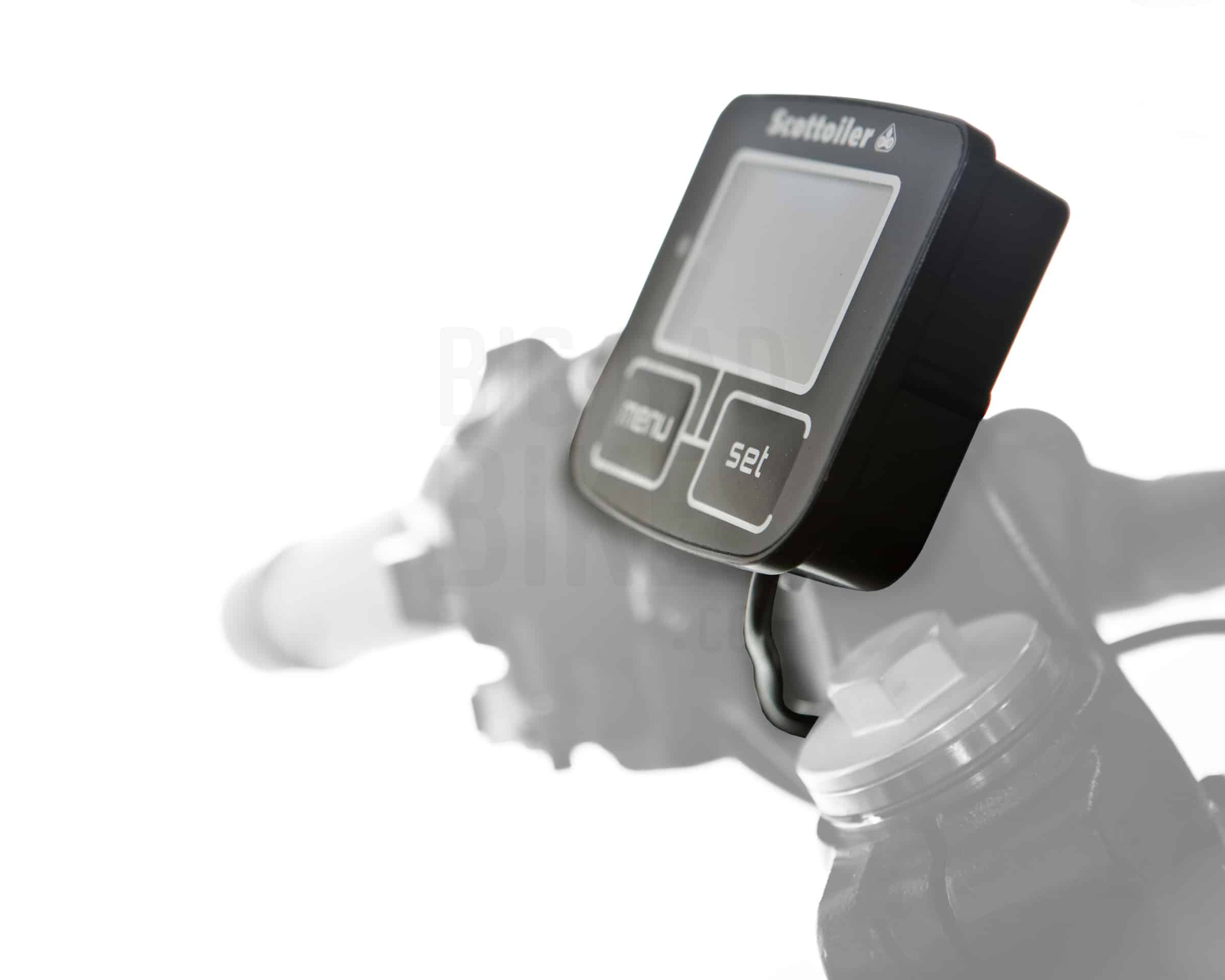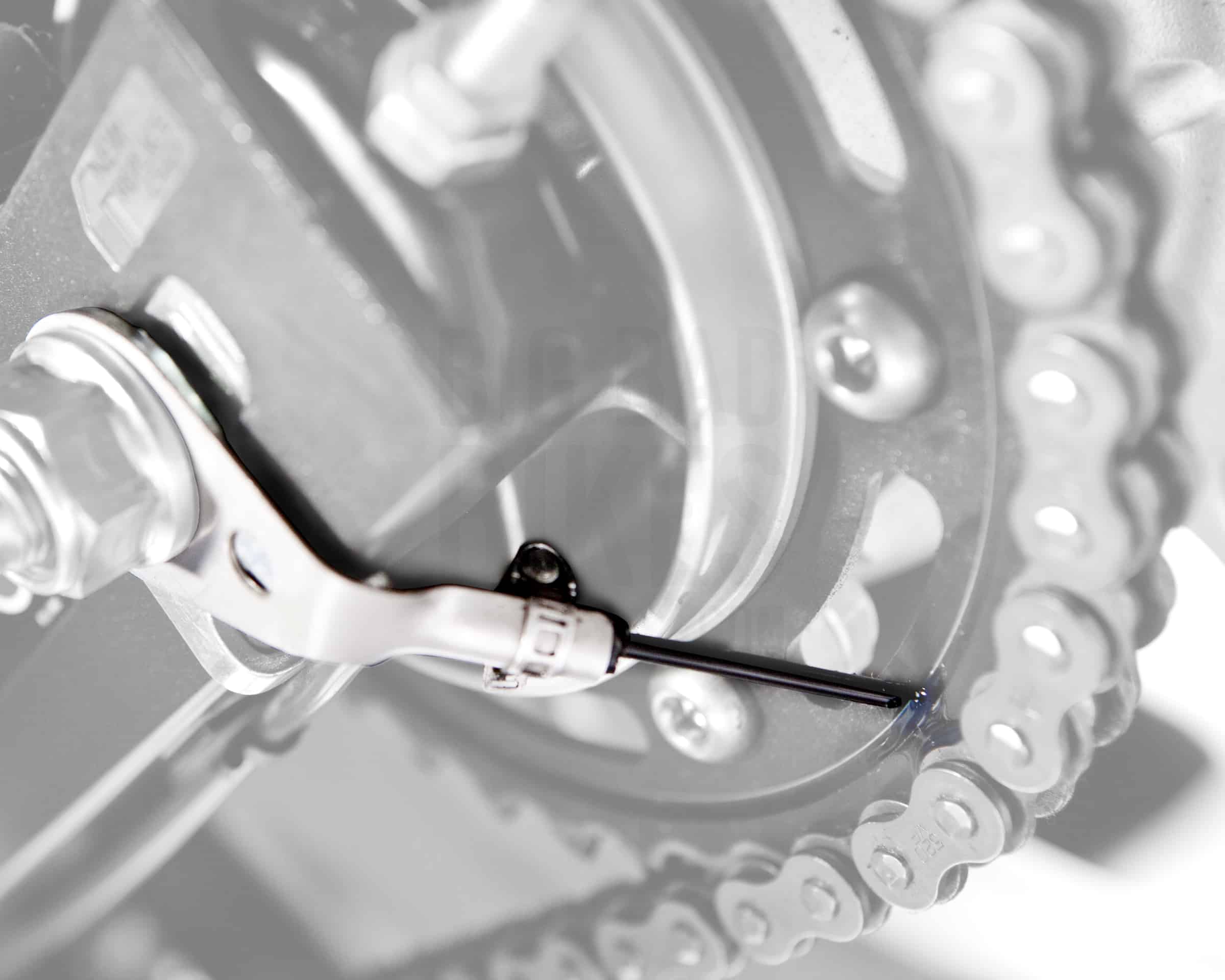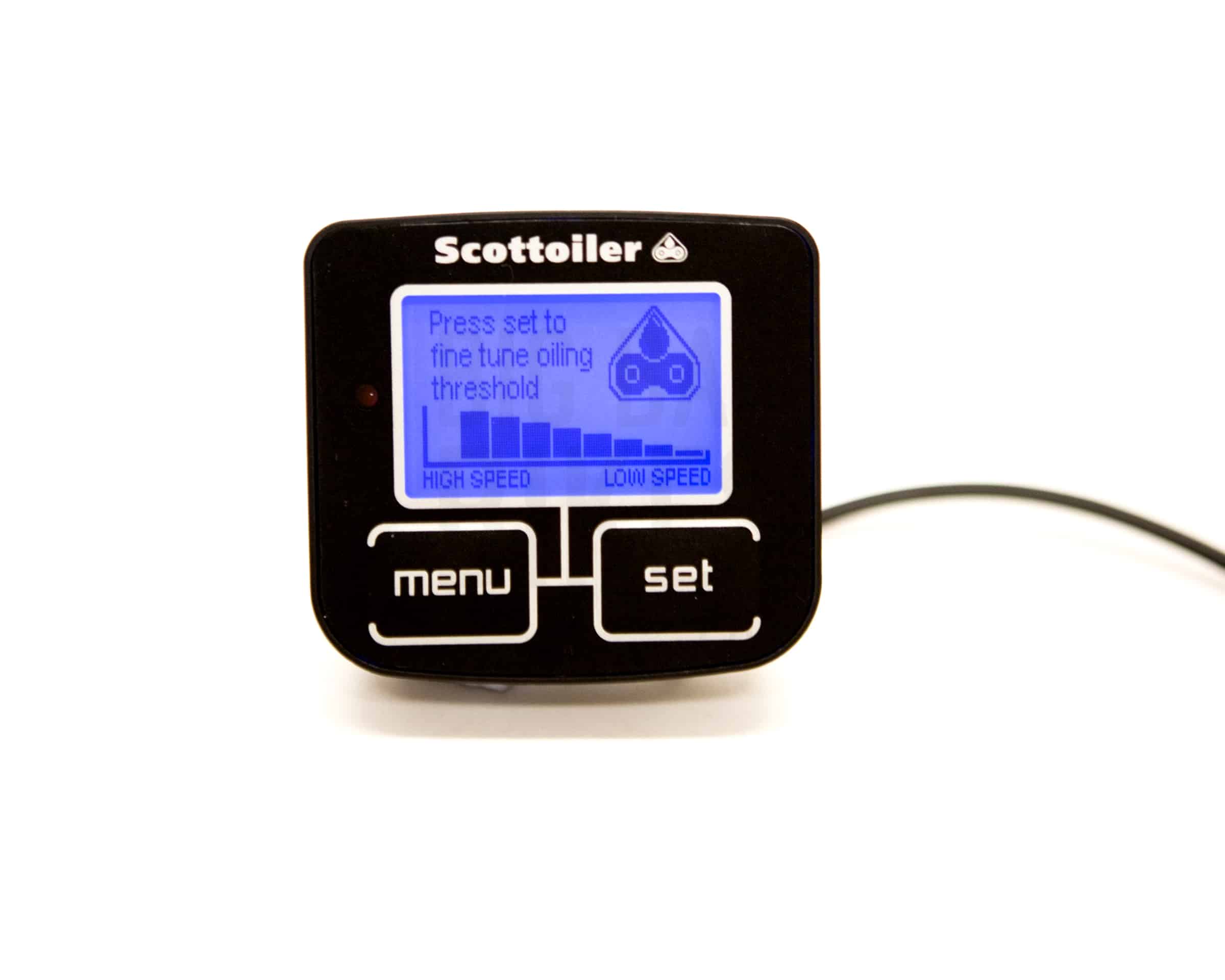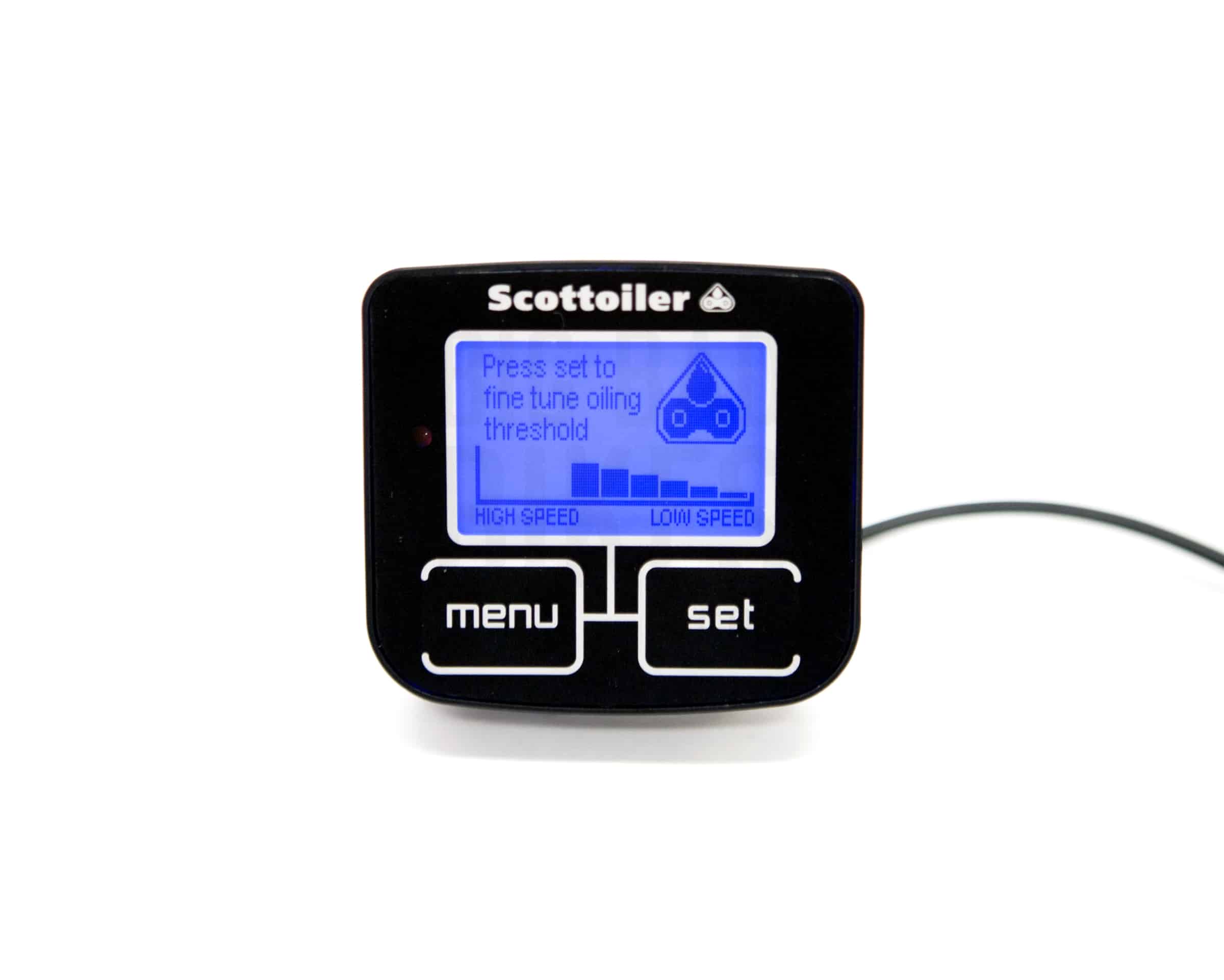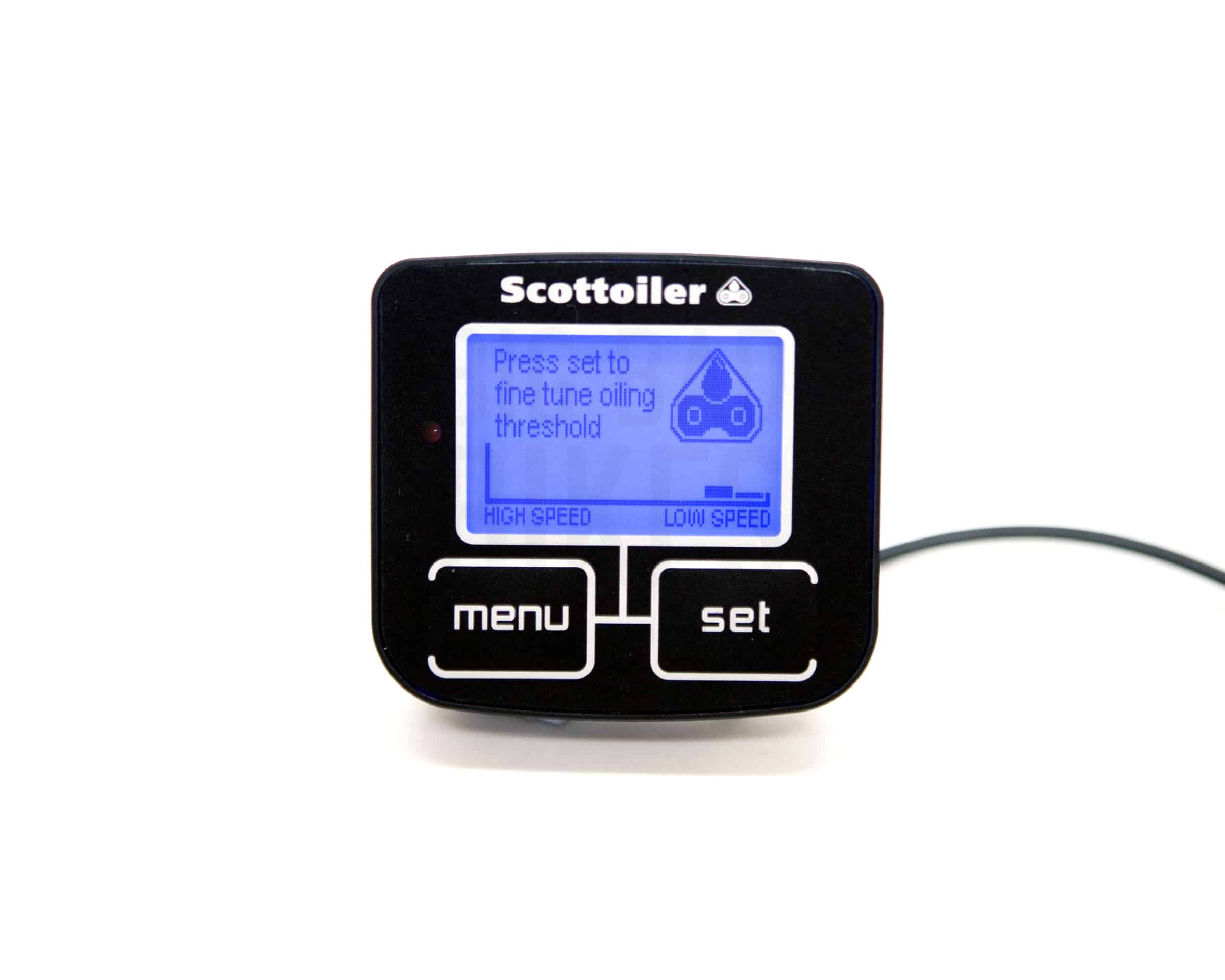 Scottoiler eSystem
No-hassle chain maintenance! This chain oiling kit will keep your chain constantly lubed, taking away the need for those pesky regular chain oiling sessions, not to mention it drastically extends the life of your chain.
Out of stock
Notify me when stock is available
Excl. Shipping & Other Charges
[?]
---
---
Product Description 
Scottoiler brings you the eSystem, the ultimate automated chain oiling system. The eSystem, unlike the vSystem, runs off its own power and does not reply on tapping the vacuum system of the bike. This is perfect especially for bikes like the KTM Dukes which do not have any readily available vacuum tap off points. The eSystem also has the added advantage of being able to adjust oil flow on the go, specific to the riding conditions and ambient temperature at that time. The eSystem senses vibration and movement with a triple axis accelerometer, using technology derived from MotoGP.  It will sense when the engine is running and power on, then once moving – even at constant motorway cruising speeds – the sensor will monitor engine vibrations and trigger the eSystem's oiling mode.  The system displays this information on the screen along with the flow rate, temperature in Celsius, and oil level alongside the accelerometer readout in 'G'. It's a simple addition to your bike that can increase the life of your chain and sprockets, and drastically cut down on the time needed for chain maintenance. The included bottle of Scottoil will last you up to 8000km with the correct adjustment
Highlights
Reduce time for chain maintenance
Adjust oil flow on the go
Increase life of chain and sprockets
Improves performance
Additional Information / Product Reviews
Review 1  (Source : WebBikeWorld.com)
---
What's in the box? 
Reservoir Metering Valve x 1
Control Unit x 1
Injector x 1
High Temperature Scottoil – 250ml x 1
---
---
Bajaj Dominar 250 2020 - 2022
Bajaj Dominar 400 2017 - 2018
Bajaj Dominar 400 2019 - 2022
Benelli 302R 2018 - 2021
Benelli Imperiale 2020 - 2022
Benelli Leoncino 2020 - 2022
Benelli TNT 300 2017 - 2021
Benelli TNT 600i 2016 - 2021
Benelli TRK 502 / 502x 2019 - 2022
BMW F 650 GS 2008 - 2012
BMW F 750 GS 2018 - 2022
BMW F 800 GS 2008 - 2012
BMW F 850 GS 2018 - 2022
BMW F 850 GSA 2019 - 2022
BMW F 900 R 2020 - 2022
BMW F 900 XR 2020 - 2022
BMW G 310 GS 2017 - 2019
BMW G 310 GS 2020 - 2022
BMW G 310 R 2017 - 2019
BMW G 310 R 2020 - 2022
BMW S 1000 R 2017 - 2020
BMW S 1000 R 2021 - 2022
BMW S 1000 RR 2010 - 2018
BMW S 1000 RR 2019 - 2022
BMW S 1000 XR 2017 - 2019
BMW S 1000 XR 2020 - 2022
CFMoto 300 NK 2019 - 2022
CFMoto 650 GT 2019 - 2022
CFMoto 650 MT 2019 - 2022
CFMoto 650 NK 2019 - 2022
Ducati Hypermotard 2015
Ducati Hypermotard 939 2016 - 2018
Ducati Hypermotard 950 2019 - 2022
Ducati Hyperstrada 2015
Ducati Hyperstrada 939 2016 - 2018
Ducati Monster 1200 2015 - 2020
Ducati Monster 795 2015
Ducati Monster 797 2016 - 2020
Ducati Monster 821 2015 - 2020
Ducati Monster S2R 2015
Ducati Multistrada 1200 2010 - 2012
Ducati Multistrada 1200 2013 - 2014
Ducati Multistrada 1200 2015 - 2018
Ducati Multistrada 1260 2018 - 2021
Ducati Multistrada 950 2017 - 2022
Ducati Multistrada Enduro 1200 2016 - 2018
Ducati Multistrada Enduro 1260 2019 - 2021
Ducati Multistrada V4 / V4S 2021 - 2022
Ducati Panigale 1299 2015 - 2021
Ducati Panigale 959 2016 - 2020
Ducati Panigale V2 2020 - 2022
Ducati Panigale V4 2018 - 2022
Ducati Scrambler 2015 - 2022
Ducati Scrambler 1100 2018 - 2022
Ducati Scrambler Desert Sled 2017 - 2022
Ducati Supersport 2017 - 2022
Hero X Pulse 200 2019 - 2021
Hero X Pulse 200 4V 2021 - 2022
Hero X Pulse 200 T 2019 - 2021
Hero Xtreme 200S 2019 - 2021
Honda Africa Twin Adventure Sports 2020 - 2022
Honda Africa Twin DCT 2017
Honda Africa Twin DCT 2018 - 2019
Honda CB 1000 R 2014 - 2021
Honda CB 300 R 2019 - 2022
Honda CB 500 X 2021 - 2022
Honda CB 650 R 2019 - 2022
Honda CBR 1000 RR 2018 - 2022
Honda CBR 650 F 2013 - 2018
Honda CBR 650 R 2019 - 2022
Honda GoldWiing 2018 - 2022
Honda H'Ness CB 350 2020 - 2022
Husqvarna Svartpilen 250 2020 - 2022
Husqvarna Vitpilen 250 2020 - 2022
Java Motorcycles Forty Two 2019 - 2022
Java Motorcycles Java 2019 - 2022
Java Motorcycles Perak 2019 - 2022
Kawasaki ER-6f 2011 - 2012
Kawasaki ER-6f 2012 - 2016
Kawasaki ER-6n 2014 - 2016
Kawasaki KLX 110 2018 - 2021
Kawasaki KLX 140 2018 - 2021
Kawasaki KLX 450 R 2018 - 2021
Kawasaki KX 100 2018 - 2021
Kawasaki KX 250 2018 - 2021
Kawasaki KX 450 2018 - 2021
Kawasaki Ninja 1000 2017 - 2019
Kawasaki Ninja 1000 2020 - 2022
Kawasaki Ninja 300 2012 - 2017
Kawasaki Ninja 300 2021 - 2022
Kawasaki Ninja 400 2018 - 2021
Kawasaki Ninja 650 2017 - 2022
Kawasaki Ninja H2/H2SX 2018 - 2022
Kawasaki Versys 1000 2015 - 2018
Kawasaki Versys 1000 2019 - 2022
Kawasaki Versys 650 2015 - 2022
Kawasaki Versys X-300 2017 - 2021
Kawasaki Vulcan 2016 - 2022
Kawasaki W 800 2019 - 2022
Kawasaki Z1000 2014 - 2021
Kawasaki Z650 2017 - 2022
Kawasaki Z650RS 2021 - 2022
Kawasaki Z800 2014 - 2016
Kawasaki Z900 2017 - 2022
Kawasaki ZH2 2021 - 2022
Kawasaki ZX-10R 2014 - 2015
Kawasaki ZX-10R 2016 - 2022
Kawasaki ZX-10RR 2016 - 2021
Kawasaki ZX-14R 2013 - 2021
Kawasaki ZX-6R 2014 - 2016
KTM 125 Duke 2018 - 2022
KTM 200 Duke 2011 - 2022
KTM 250 Adventure 2021 - 2022
KTM 250 Duke 2019 - 2022
KTM 390 Adventure 2020 - 2022
KTM 390 Duke 2013 - 2016
KTM 390 Duke 2017 - 2022
KTM 790 Duke 2019 - 2021
KTM 890 Adventure 2021
KTM RC 200 2017 - 2022
KTM RC 390 2017 - 2022
Mahindra Mojo 300 2016 - 2021
Royal Enfield Bullet 2018 - 2022
Royal Enfield Classic 2018 - 2020
Royal Enfield Continental 650 2018 - 2022
Royal Enfield Himalayan 2018 - 2022
Royal Enfield Interceptor 650 2018 - 2022
Royal Enfield Meteor 350 2020 - 2022
Royal Enfield Thunderbird 2018 - 2020
Suzuki 1250 Bandit S 2011 - 2018
Suzuki GSX-R 1000 2017 - 2021
Suzuki GSX-S 1000 2015 - 2021
Suzuki GSX-S 750 2017 - 2021
Suzuki Hayabusa 2008 - 2022
Suzuki RM-Z 250 2018 - 2021
Suzuki RM-Z 450 2018 - 2021
Suzuki V-Storm 1000 2014 - 2019
Suzuki V-Storm 650 XT 2017 - 2022
SWM SuperDual T 2018 - 2020
Triumph Bonneville T100/ Thruxton 2014 - 2016
Triumph Bonneville T100/ Thruxton 2017 - 2022
Triumph Bonneville T120/ Thruxton 1200 2016 - 2022
Triumph Bonneville Bobber 2017 - 2022
Triumph Bonneville Speedmaster 2018 - 2022
Triumph Daytona 675 2014 - 2016
Triumph Daytona 765 2020 - 2021
Triumph Rocket 3 2020 - 2022
Triumph Scrambler 1200 2019 - 2022
Triumph Speed Triple 2014 - 2020
Triumph Speed Twin 2019 - 2022
Triumph Street Scrambler 2017 - 2022
Triumph Street Triple 675 2014 - 2016
Triumph Street Triple 765 2017 - 2022
Triumph Street Twin 2016 - 2022
Triumph Thunderbird 2014 - 2019
Triumph Tiger 800XC 2014
Triumph Tiger 800XC/XCX/XCA 2015 - 2017
Triumph Tiger 800XC/XCX/XCA 2018 - 2019
Triumph Tiger 800XR/XRX 2015 - 2017
Triumph Tiger 800XR/XRX 2018 - 2019
Triumph Tiger 900 2020 - 2022
Triumph Tiger Sport 850 2020 - 2022
Triumph Trident 2021 - 2022
TVS Apache RR 310 2018 - 2021
Yamaha FZ 1 2006 - 2016
Yamaha MT-09 2013 - 2021
Yamaha YZF-R1 2015 - 2021
Yamaha YZF-R3 2015 - 2021