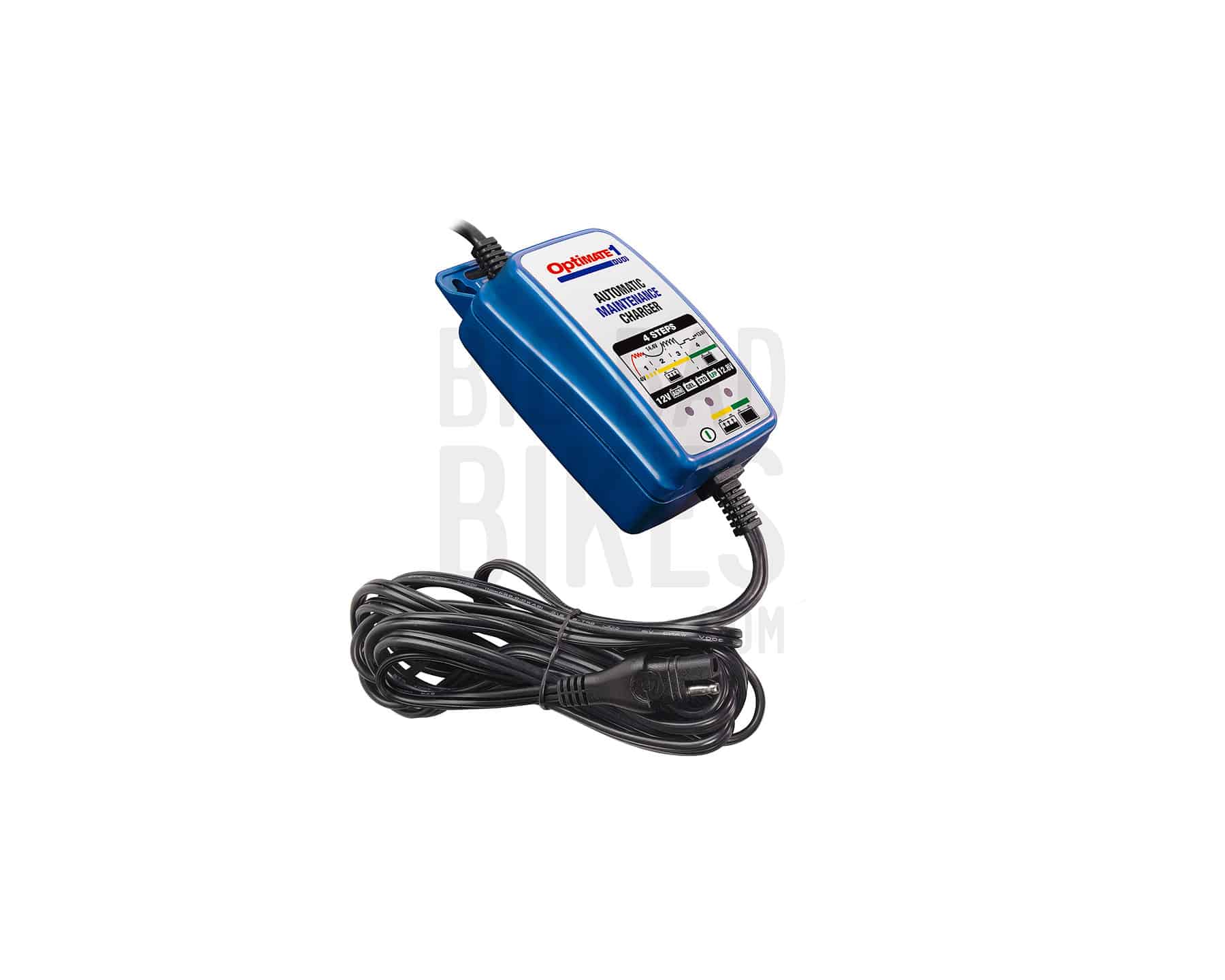 Optimate 1 Duo Battery Charger
The most versatile all-round charger, truly "connect & forget"!!
Tecmate
Product Description 
Tecmate brings you the Optimate 1 Duo trickle charger, a true "connect & forget" automatic charger/maintainer.
The Optimate 1 Duo is compatible with both traditional lead-acid batteries (standard, wet cell, sealed AGM, GEL) amd 12.8-12.2V Lithium batteries (LiFePO4).
The Optimate 1 Duo has a 4 step charging cycle, which makes it an excellent all-round charger –
SAVE – batteries that have been drained to as low as 4V can be nursed back to health. If the battery cannot be recovered, then it throws up a warning
CHARGE – Delivers a bulk charge bringing the charge back up to acceptable levels
OPTIMIZE – Delivers a pulsing charge to help optimize the life of the battery
OPTIMATE 365 MAINTENANCE – Once the battery has been charged and optimized, the Optimate 1 Duo switches into an inter-active float charge that will maintain any powersports battery without ever over-charging it!
All Optimate Chargers come with a set of SAE battery leads (to charge your battery while still on the bike) and a set of SAE – crocodile clips leads (to bench charge your battery) , giving you loads of flexibility on how you charge your battery.
All Optimate Chargers have an integrated wall mount bracket so you can make sure that the charger is mounted at an optimum position and is visible at all times when connected.
Choose from a wide range of other electrical accessories from Optimate, all built around the SAE connector eco-system – for example USB chargers, battery level indicators, emergency LED work-lights …
All Optimate chargers & accessories come with a 3 year product-replacement warranty
Highlights
"Connect & Forget" charger
Compatible with both lead acid & lithium batteries
4-step charge cycle that can recover deeply discharged batteries
3 year warranty
Product Specifications 
12v 0.6A output
4-step charge cycle
Suitable for both Lead Acid & Lithium batteries
What's in the box?
Optimate 1 Duo Charger
SAE Battery Leads
SAE Crocodile Clips Lead
Compatibility Warning
Suitable for both Lead Acid & Lithium batteries