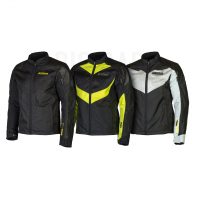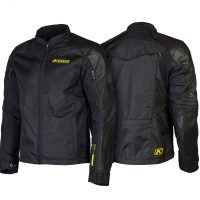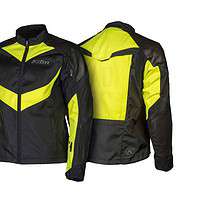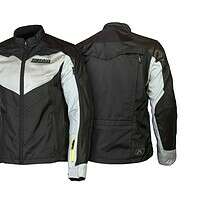 Sale!
Klim Apex Air Jacket
The best controlled-ventilation mesh jacket
SIZE CHART
---
---
Product Description
Klim brings you the Apex Air Jacket. The Apex Air is the absolute premium controlled-ventilation touring jacket. Easily go from heating up to cooling down with the Apex Air's zip-down ventilation panels. Includes top-of-the-line leather, premium armor and KLIM®-proven durability, comfort and quality.
The Apex Air has a chassis made from 420/500D Cordura, with Pittards Keratan leather panels in the shoulders, elbows and forearms for better abrasion resistance. The Apex Air also features massive mesh panels made from Klim's Karbonite Nylon Mesh.
The Apex Air comes with 3 massive mesh panels and 2 huge vents. There are two vents on the chest, and one on the back. The chest vest can be opened or closed from the inside of the jacket. The cover panels on the inside stow away so that they don't get in the way. The back vent can also be opened and closed from the outside, and the cover panel can be stowed away so that it doesn't flap around and get in the way. The vents on the arms run almost the entire length of the arm, and the zips allow you to control what level of ventilation you require. All these features make for a jacket that is ideal for hot weather conditions, but can also handle moderately cold conditions too.
The jacket features D3O EVO PRO (CE Level 1) armour in the elbows and shoulders, and D3O Viper PRO (exceeds CE Level 2) armour for the back. There is a fitted spandez sleeve lining that helps to keep the armour in place.
Visibility is aided with reflective stips that are woven into the chest, arms and back.
The Apex Air comes with 2 external pockets and 1 internal passport pocket
It has adjustable arm straps, and an external waist adjustment strap
* All dyed/pigmented fabrics will fade under UV exposure (sunlight) over time. Klim fabrics are highly UV resistant, but HI-VIS fabrics will fade at a faster rate than normal fabrics under the same UV exposure. This is a normal property of all HI-VIS pigments/fabrics and is not considered a manufacturer defect.
Highlights
Highly ventilated – 3 mesh panels, 2 vents
Controlled Ventilation
Klim Karbonite Mesh, 750% stronger than normal polyester mesh
D3O armour
3 pockets
Additional Information / Product Reviews
Source: Revzilla
---
Product Specifications 
Features
Controlled Ventilation Mesh Jacket
Internal Chest Panels Zip Up/Down To Expose Mesh Panels & Store Into Their Own Pockets
External Center Back Panels Zip Up/Down To Expose Mesh
Controlled Ventilation Panels On Sleeves Via Zipper
Heavy Abrasion And Tear-Resistant Mil-Spec Derived Klim Karbonite™ Nylon Mesh
Built With Klim Rhino-Stitch™ Construction Technology
420D/500D Cordura® Framework
Athletic Fit/Streamlined Patterning
Accordion Stretch Panel On Back Of Elbow
Stretch Panels On Back Of Shoulders
Strategic Leather Panels On Shoulders And Elbows
Impact Protection
D30® Evo Pro Shoulder Pads
D30® Evo Pro Elbow Pads
D3o® Viper Back Protector (Level 2)
Fitted Spandex Sleeve Lining  – Helps Keep Armor In Place
Cargo, Comfort And Fit Systems
2 Hand Pockets
Klim® Id/Emergency Id Pocket On Left Forearm
2 Open Stash Pockets On Inside Lower Torso
1 Internal Passport Pocket
Standard Klim® Jacket-To-Pant Zipper Panel
Visibility
Woven Reflective Fabric On Chest, Arms, And Back
---
Additional information
| | |
| --- | --- |
| Weight | 5 kg |
| Size | SM, MD, LG, XL, 2X, 3X |
| Color | Black, Hi-Vis, Gray |