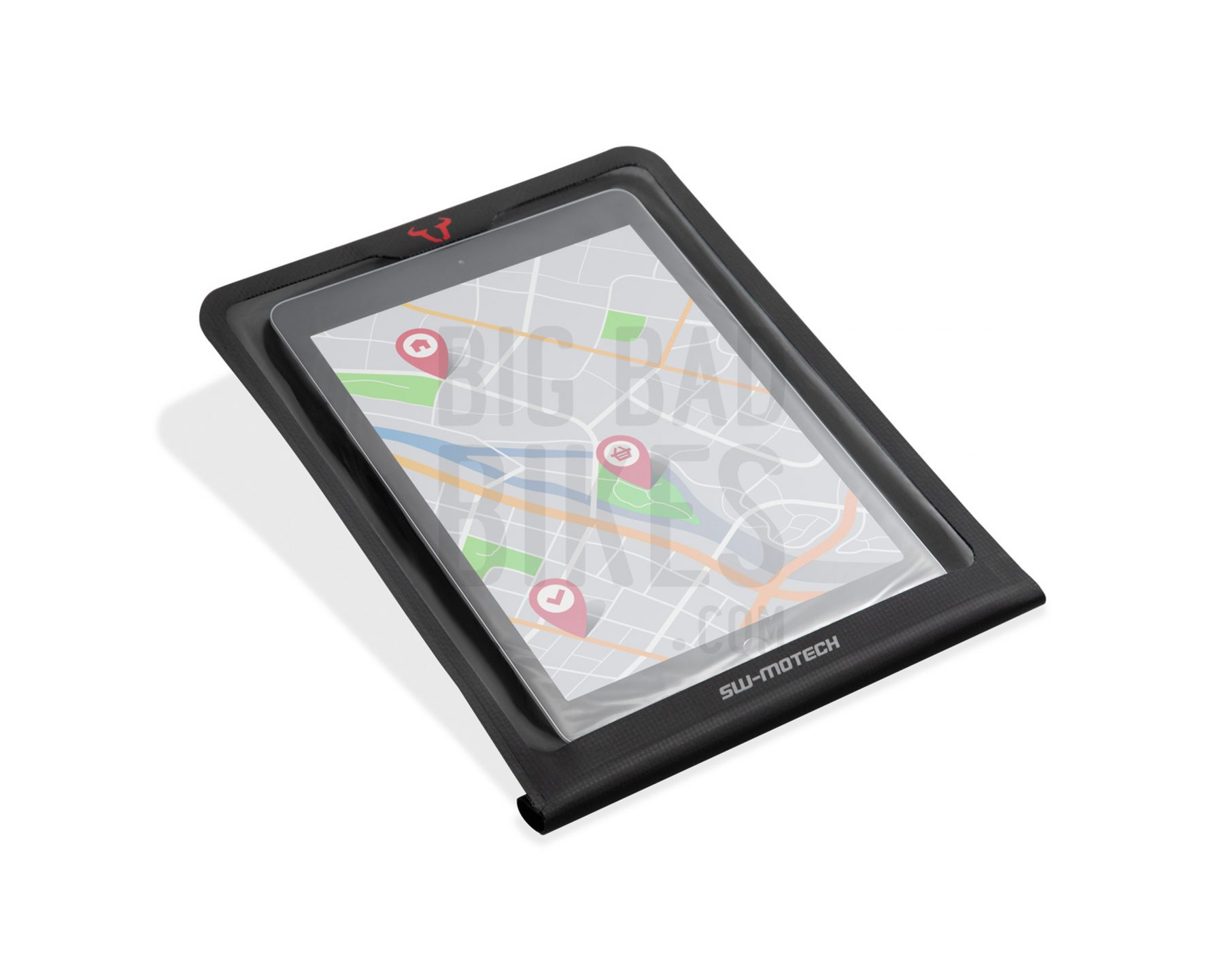 SW-Motech Tablet Drybag for PRO Tank Bags
A waterproof drybag for your tablet, designed to fit on to all SW-Motech PRO Tank Bags
SW-Motech
Product Description
SW-Motech brings you the Tablet Drybag, a waterproof drybag for storing your tablet/road maps, on any of SW-Motech's PRO Tank Bags. The holder's plastic cover with its large clear PVC window, has an inner dimension of 245mm x 200mm, and is suitable for almost all standard tablets up to 274.32 mm (size seems to be bigger than the internal dimensions of the drybag). With two retention arms, the Tablet-Drybag is inserted into the MOLLE system and additionally secured by an elastic band on the tank bag. The Tablet Drybag is attached to the tank bag via the T-Lock mount. You can adjust the position of the T-Lock holder on the MOLLE attachment (on the PRO Tank Bag) to suit your needs. Once attached to the T-Lock holder, the Tablet Drybag can be released with a quarter turn if required. The Tablet-Drybag can also be used for conventional road maps.
It's made from 1000D polyester (material not specified ion SW site?) and features a roll top closure, making sure your tablet stays dry. Keep your tablet/device within reach and visible at all times. The see through screen also allows for operation of touch screen devices.
Highlights
Waterproof drybag for your Tablet/road maps
For attaching onto the MOLLE system on PRO tank bags
Fits smartphones up to 274.32 mm
Roll closure
Water-resistant coating
Required Accessories
Must be used along with SW-Motech PRO Tank Bags
Product Specifications
Material: 1000D polyester
Inner dimensions: 245mm x 200mm
Color: Black
What's in the box?
1 x Smartphone-Drybag for MOLLE system
1 x T-Lock holder
Mounting instructions